JMT Day 3: Backtracking, horse urine, and the British Army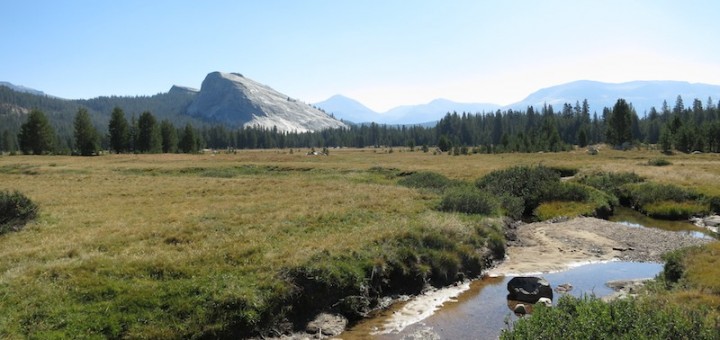 JMT Day 3, August 6, 2013 Tuesday

Today was a relatively easy day. I made it a mile or two past the last trail junction before Donahue Pass, for a total of 14 or so trail miles. I got lost several times around Tuolumne Meadows, having to backtrack three times to stay on the "real" trail. I had gone to bed very early the night before — probably around 6:30 – 7, and lay awake for a while before falling asleep. Sometime in the middle of the night I woke up needing to pee, but didn't want to leave my tent. I tossed & turned for hours before finally peeing, then falling asleep quickly. When I did finally wake, it was pretty light. I struck camp and moved out, making it finally to the cafe around 10:45 am.
There is a loop of the JMT that goes on the other (N) side of Tioga Rd, and takes you right by Lembert Dome. There were nice interpretive signs — I learned that the small "prairie dogs" are Belden Ground Squirrels. Outside the cafe, I met another JMT hiker and we got to chatting. His name is Ben, age 50, father of 2 girls (16 & 22), he & his wife are both professors at [a university]. We have similar itineraries for the hike and are both hiking solo, so decided to join up for the afternoon.
Together we made it a few miles (2? 3?) past the trail junction and made camp near each other. I am trying cowboy camping for the first time! On the trail we passed a young Japanese woman hiking solo, and a group of 12 men in the British Army! They are doing an "Adventure Training Exercise" — the whole JMT in 15 days (as explained by a man with a mild Scottish burr who had all sorts of bad things to say about the Tom Harrison maps, and he's a mapmaker by trade!). Some of the 19-20 y.o.s were sweating pretty hard. It's about 8:15 and there were still hikers going by as of 7:40.
Saw a doe near our camp site; she looked at me a bit, then slowly walked off. Saw a few does (3) in Tuolumne Meadows too. Also saw some trout jumping in the river.
From time to time while walking, the memory of walking that particular stretch comes back to me, particularly stream crossings. I remembered the horse-piss creek on day 2, and the wild onion creek, as well as some creek crossings climbing out of the Tuolumne craziness. I like the memories, and am also looking forward to when the land is all new to me.
I managed to eat all of my dinner, and a plum that I got in Tuolumne. I think I am carrying too much food. B carries 23 oz. of food a day — I was aiming for 28-32! I may leave some behind at Reds Meadow.
Walking felt good today. I'm really only sore when I've been taking a break, and then start again. I took another woods shit on the way to T.M. — some hikers walked by on the trail while I was digging my hole. I don't think they saw. I copied Ben's method of doing laundry — rinsed socks, undies, & bandana in the creek. I took a quick swipe at my lady parts while changing. Halfway thru the afternoon, we stopped and soaked our feet in the river while snacking.
Feet: good. same small blisters. some rubbing on both pinkies at the end of the day. sore midfoot (R) at end of day
Body: good. no real issues. no cramps. drank probably less water than yesterday. will need to poop in the AM
Mileage:
JMT miles: 14.2 (est.) today, 32.0 total
Total miles: 16.7 (est) today, 42.0 total
Lower Cathedral Lake 9288′ → Lyell Canyon ~8900′
Ah, sweet horse-piss creek. On our hike through there in 2012, my group had stopped to gather water, and noticed a strong odor of horse urine. We went a bit upstream to collect water, but the bottle of water we got still tasted strongly of our equine buddies. BLEH. That water bottle got tossed and replaced at Tuolumne.
I did not collect any water from that particular creek this year.

Getting lost around Tuolumne Meadows was a pain in the ass. I wanted to see the whole "real" trail, instead of doing a road walk from where the JMT first hits Tioga Rd to the cafe, but finding the JMT where it headed for the northern loop was a challenge. I even asked a ranger, and she had no clue what I was talking about. I'm glad I persisted, as the meadow was gorgeous, but man. I didn't enjoy being back in quasi-civilization after three wonderful days in nature, though the burger really hit the spot. One day soon I would appreciate the amenities civilization offered; Day 3 was not that day.
Meeting Ben was a real treat. It was my first on-trail experience with hikers looking out for each other — we watched each other's bags while taking turns shopping. Having a trail partner was a great break from the solitude, and it was interesting to hear someone else's hiking story.
The cowboy camping (not putting up a shelter) was quite an experience, which I'll get to more in the next day's journal. Sneak preview: I had weird nightmares. I tend to toss and turn as I sleep, and find it hard to keep glasses on, so seeing the stars as I drifted off was a challenge. Am looking forward to more sleeping-out this summer.
If you're starting to think that all I wrote in my journal was a record of the day's bowel movements, you're not far off. That stuff feels really important on the trail — it's one of the factors that solidly affects how my day goes. "Really? Pooping? That's what you wanted to make sure to remember? What about the views? Did you like the mountains?"It's funny reading the journal now, though, and thinking "Really? Pooping? That's what you wanted to make sure to remember? What about the views? Did you like the mountains? What about plants, wildlife? Deep thoughts?"
Guess not. The call of nature rules.