JMT Day 2: Mule deer, switchbacks, and early camp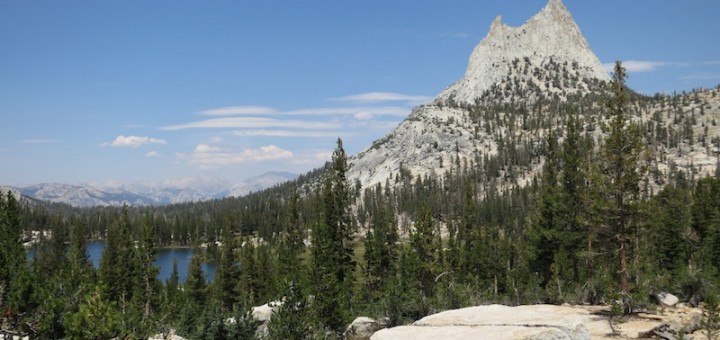 JMT Day 2, August 5, 2013 Monday
I woke up with the boy scouts, and got out of camp before full light. I'm guessing it was between 6 and 7. I had breakfast at the Half Dome Trail junction, and kept walking. I saw some other backpackers coming from the other direction, but only one other going my direction all day. I saw a gorgeous mule deer buck and two does close by. The does ran away quickly, but the buck stared at me some, then went back to eating. A bit later, I saw two more skittish does, and a fawn! Lots of chipmunks and squirrels, one marmot, and a few ravens.
The climb up the switchbacks before Sunrise High Sierra Camp was brutal. I took many breaks. I suspect I didn't eat enough yesterday, so I made myself take AM & PM breaks for eating. I sat in some shade by Sunrise Camp and ate while a small prairie dog tried to steal food. The soppressata tasted DELICIOUS. Not so much the PB & tortillas. I made it past Upper Cathedral Lake to Lower Cathedral Lake around 2:30 or 3, found a campsite, then quickly took my first woods shit. Very satisfying. Next was a dip in the lake, then filling water. Here's hoping I can finish my dinner tonight.
The walking was hard today, but not bad. The climbs were the only psychologically difficult parts.
Feet: feel good. some rubbing on backs of heels; small blister (?) on right pinkie toe, but not bothersome
Body: good. no more cramps today. drank 4 liters of water. tired
Mileage:
JMT miles: 12.9 today, 17.8 total
Total miles: 13.4 today, 25.3 total
Little Yosemite Valley 6140′ → Lower Cathedral Lake 9288′
This day started out hard. The switchbacks up and over the unofficial and unmarked Sunrise Pass before Sunrise Camp keep on going. I would take 50 steps then allow myself a break, then 60 before my next break, and on. Cathedral Pass, in contrast, barely felt like a pass; a couple switchbacks, and done. Later on in the hike, I wouldn't need breaks anywhere near that frequently, if at all, and this early on it made me feel weak and unready for the climbs up ahead. Down with disheartening starts!
Besides being the most mileage I had ever hiked in one day (that I can recall), this was the most solo hiking I had ever done. I made all the decisions — when to get up, when to move, when to eat, how long to rest, when to fill water, when to stop to pee behind a tree, how long to stare at the buck — and I did just fine. In fact, I loved it.
The AM & PM breaks I started this day became the cornerstones of my eating schedule. I would regularly stop around 10 am and 2:30-3 pm and eat something to keep me going until the next meal. If I remember right, I had to eat some chocolate immediately upon arrival at Lower Cathedral Lake to regain enough brain power to set up camp. This also became a regular occurrence. Never underestimate the power of chocolate to calm you down on the trail.
Whenever I camped at a lake, and arrived early enough, I would take a dip in my sports bra and undies to wash away the grime of the day. I didn't shower with soap on the trail, to avoid adding soap to the natural eco-system. The lake can deal with my sweat though… This early on,  I was still a bit nervous about "exposing myself" around other hikers, particularly in an area where there are a lot of day hikers.
Later on I stopped caring, hard. Ain't no way I'm gonna carry a bathing suit for show.
That night I tried to go to bed around 5 pm. It was really, really light outside. I didn't care AT ALL. My body was done for the day.