JMT Day 9: Beach reading, sweaty switchbacks, and losing control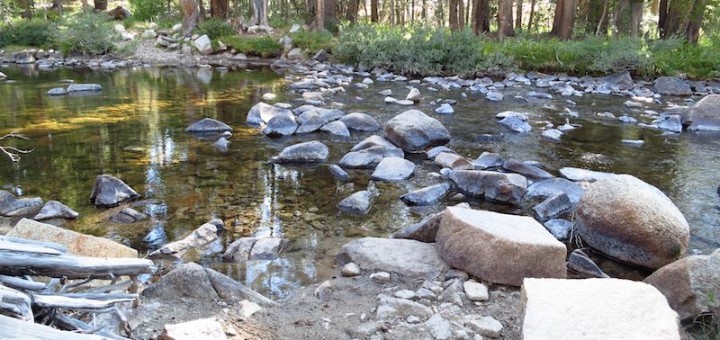 JMT Day 9, August 12, 2013 Monday
Today I woke up in pre-dawn light and packed up quickly. I was over to the picnic tables to wait for the ferry by 6:40. The owner had said it would be First Come, First Served. I was first. Despite my efforts, the VVR staff thought that I & the 4 others ready to take the early ferry were actually going to the [alternative] Bear Creek Trailhead, and instead of taking us on the boat, they took 5 of the 10 remaining British Army folks. When the driver came back to do the 2nd boat ride, he tried to make one of the soldiers wait while I rode in the boat, but the officers didn't like that idea, and I didn't want to be the cause of an argument.
I ended up waiting on the beach for a while, reading my book, before getting on the 3rd boat. I didn't really mind waiting, but I was really unimpressed by the organization of the resort. Their falling-apart rattling death van was called the Thunder Wagon, appropriately. One of the staff felt bad and brought me a Pellegrino soda while I waited. By the time the boat got to the other side, I had to pee something fierce. There was no cover walking across the empty lake bed, and I actually started peeing tiny amounts before I made it to the tree line. Sheesh.
The walk once I got back to the JMT felt hard. The first 4.6 miles were largely up, going 2000′ up quite rapidly in switchbacks. I was so sweaty that sweat covered my back and dripped halfway down my ass, visibly soaking [the top of] my pants. A woman named Cha asked if my tent was still wet… There are salt lines on my bag now too. Sweatiest day to date.
The rest of the day was mostly following Bear Creek, which is gorgeous, sliding & tumbling over granite slabs and boulders, forming some pools and much shallows. I stopped to soak my feet and have my PM snack by another lovely creek that fed into Bear Creek. Met several older hikers, trail names Old Drum (named after a dog in a 19th century Missouri court case), Old Si / Sigh, and a woman Ivana Sherpa. I got to my goal destination of Upper Bear Creek Meadow around 5:30 or 6, and now, after completing camp chores & eating, feel exhausted and cranky.
I'm somewhat concerned about my pinky toes. They were hurting to walk on again today and I'm concerned they could be infected. I used my pocket knife scissors to trim off the (large amounts of) dead skin, and wiped off the right one with an alcohol swab. It stung. I put on some antibiotic ointment, and wrapped both toes in gauze held on by tape.
I've been having terrible farts today. Really smelly. I crapped in the middle of the night at VVR, and a bit again in the morning. Stupid camp food and burgers. What a terrible diet! I am starting to crave veggies. I've been able to finish my dinners. Even put the last of the cheese from Tuolumne in today's potatoes.
Can't wait to see Russell in just two days.
Feet: good except for pinkies and backs of heels. put new moleskin & duct tape on heels.
Body: gross farts. legs got good workout going up switchbacks. had minor incontinence.

Mileage:
JMT miles: 9.4 today, 98.0 total !
Total miles: ~12.4 today, 114.7 total
VVR ~7700′ → Upper Bear Creek Meadow 9560′
There's a certain humiliation in pissing oneself as an adult.
It's somewhat of an open secret among runners, losing control while out on the road or trail. I've been a casual runner for 10 years now, and in that time have pissed myself two, maybe three, times. It's never a large quantity, and I've thankfully avoided crapping myself so far (though I've had the experience of rushing into the nearest bathroom — gas station, grocery store, ANYWHERE — and nearly not making it).
It's always a surprise for me, a "you've got to be kidding me" moment. I spend a few minutes wondering how large the wet patch is, did anyone catch me in the act, etc. Even elite athletes sometimes pee on the course, though this is likely more of a deliberate choice to avoid losing time.
I did not expect to have similar incontinence while hiking. I mean, for fuck's sake, it's just walking! And I'm almost 30. I've been able to choose when and where I relieve myself for 28 years or so. I expected another 60 years before reverting to diapers. Or at least 'til I'd done something to damage my pelvic muscles. SOMETHING more than walking.
There were other people hiking behind me on the lake bed, so I tried to hold it to the tree-line, but no dice. Next time I'll just pop a squat in the open, shame be damned.
Oh well. Time for more kegels?
Moving on…
That morning, waiting for VVR to get its shit together on the parched shore of Lake Edison was not what I anticipated, but was made better by the fantasy book I'd filched the night before. Too bad the owner hadn't told the rest of us hikers that the British Army folks had already made arrangements with the VVR staff to take the first ferries out the next morning. That would have cleared up a lot of confusion.
As for the Army guys themselves, they were gracious (though firm) about the whole affair. They even shared their breakfast burritos with us while we rode in the Thunderwagon together. Tasty!
Perhaps now that Muir Trail Ranch is a viable resupply location for thru-hikers and therefore competition, VVR will up its game.
I could have chosen to take a ride to the alternate trailhead instead, but I wanted to be the one making the choice, and I don't regret slogging my way through the nasty pre-Bear-Creek switchbacks. I love that feeling of making it up a grueling climb.
BOOYAH — see you in hell, switchbacks.