JMT Day 10: Old friends, leaping trout, and thin-film interference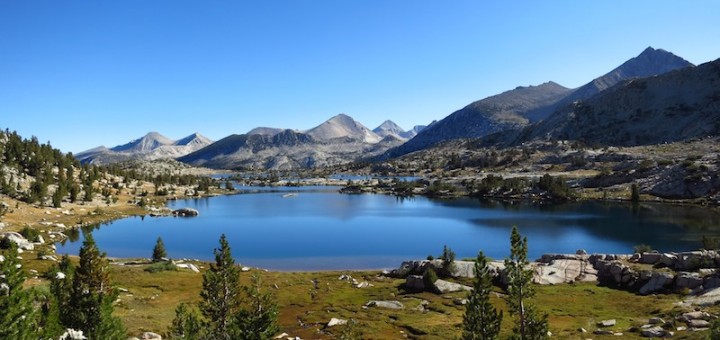 JMT Day 10, August 13, 2013 Tuesday
I crawled into my tent shortly after dinner [last night] and stayed there all evening. I didn't stay up to see any stars. I felt tired and out of sorts. I kept running into this same guy on the trail, and he ended up camping in the same spot as me; he gave me a really mild creepy vibe — first among hikers I've met on the trail. Well, when I got up this morning, he was already gone! Yay for speedy risers.
I got out of my site quickly as usual and made it up to Marie Lake for breakfast. I had some more intense sneezing — could I be getting a cold? As I was leaving to summit the pass, I ran into Ben from Tuolumne — hadn't seen him since Thousand Island Lake. We caught up a bit as we climbed to Selden Pass (easy), then hiked our own paces.
Marie Lake was lovely — a scattered, much interrupted lake reflecting the jagged mountains. There was a creek coming down the valley on the other side of Selden, making the valley lush & full of wildflowers. I saw my first columbines of this trip beside Heart Lake. Saw more currants today, didn't eat any this time. Did eat some yesterday to no discernible ill effect.
Below Heart Lake were the Sallie Keyes Lakes, which were gorgeous. The path went right along the shore of one, and I could see trout swimming around and leaping for bugs. I stopped for a snack near the far shore. I've been leap-frogging with 3 men (Jeff, Pat, Will), one of whom is from PDX. They've been going at a similar pace, playing frisbee golf along the way. They were stopped for a break by the lake too.
After Sallie Keyes Lakes, I had a steep decline through most open hillside with a lot of manzanita scrub. I think my right ear got a burn before I put my bandana over it (over both ears, babushka style).
I took lunch at the junction with the Muir Trail Ranch / Florence Lake cut-off, then walked to the ranch. Turns out their services are just for guests, with the sole exceptions of potable water, food pickups, and a general store. I said hi to Scott & Becky, filled my water, and bought some new bandages for my blisters.
Those pinkies are looking pretty nasty. The bandages I taped on came off while walking, and you can still see gaping tough skin on both. And dirt on the right one in particular.
After MTR, I got directions to the nearby campsites by the Blayney Hot Springs, and walked over. I took my shoes & socks off and found a nice stick, then forded the fast but shallow San Joaquin South Fork. I set my tent up in a prime spot under a big Jeffrey Pine (it really does smell like butterscotch), changed into shorts, and wandered down to the hot springs. I spent over an hour between the warm (98°?) murky hot spring — not sulfur, as my ring stayed the same silver — and the cool lake behind it. Sheer bliss, I tell you.
A father and two boys shared the spring, and another man & boy came too. A cook from MTR joined as well. He was subbing [for another cook] for a week. Lives in Oakland. Is a furniture maker!
After the hot springs, I came back to camp, had a snack, did my laundry, finished Elfstones, made dinner, flossed (!!!), and now its getting dark. Russell tomorrow!
Feet: pinkies hurt in morning, have been feeling better this evening post hot spring. hobbling less?
Body: good. a bit more peeing while trying to hold  

  time for kegels?
Mileage:
JMT miles: 10 today, 108 today
Total miles: 11.4 today, 126.1 total
Upper Bear Creek Meadow 9560′ → Blayney Hot Springs 7790′
The fellow I mentioned this day was the only person I met during the 20 days I hiked the JMT who gave me a bad vibe, in any way. That's something that I love about backpacking: in general, the other people who want to be out in the woods, walking all day and eating jerky and peanuts, are kindred spirits. I don't click with everyone I meet, but I do with many.
Meeting up with Ben before Selden Pass was a treat. I had been wondering for a few days whether I would see him again, as he had also been hiking faster than he'd anticipated. It's a real trip to be sitting on a rock in the wilderness, see a person walking down a path, and realize you recognize him. We summited the pass at the same time, snapped shots of each other, then separated as we each made our way down to Muir Trail Ranch (MTR), where he was staying a night or two. I didn't see him again, and forgot to check the trail register at Whitney to see when he finished. I hope you had a great rest of your hike, Ben!
There are campsites on either side of the South Fork. I wandered through the crowded-feeling zone on the near bank before deciding to ford the river and camp on the far side. Mine was the only tent over there that first night — unexpected but appreciated privacy at an otherwise busy location. Two men packing up as I got there told me how to get to the public hot springs — via a small trail right by my site. I don't know that I would have found it without their directions.
The ring I mention in my journal, the one that stayed silver, has been my Hot Spring Indicator Ring for the last 8 years. I first learned of its special powers in 2006 while backpacking near Mt Baker in northern Washington. After a few minutes of luxuriating in a smelly hot spring, I looked down at the simple silver-colored mystery-metal ring and found that it had turned purple-green, like tacky edgy jewelry you could buy at Hot Topic in the mall. The color faded back to silver after a few days, but ever since I've enjoyed using it to tell if the spring is sulfur or not.
Or I could, you know, just use my nose like everyone else. Whatevs, this is more fun.
According to this super-reliable source, the source of the color change was sulfur ions depositing on the silver, causing a thin-film interference effect.
Yay science!
If you go to that public hot spring, I highly recommend dips in the nearby lake. I even snuck in a quick rubdown bath when the families nearby weren't watching. I hope. Oakland Guy was straight-up skinny dipping, so they had more to be shocked by than a filthy hiker splashing around in her sports bra & panties and doing mysterious things underwater.
This was my last night without Russell on the trail. I went to bed early (yes, even for a hiker!), hoping morning would come more quickly. Pretty much just like this guy.