JMT Day 19: Wind, wag bags, and the extra food feast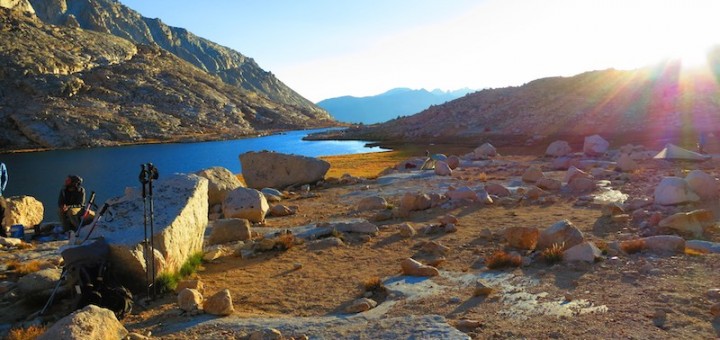 August 22nd, 2013 Thursday
Today is the last full wilderness day. It's a bit surreal. We got up and moved out in good time, saving breakfast for the road. After only a short time, I got ravenously hungry, and we stopped partway up a hill for granola. Our timing was great — we got to watch the moon set over a mountain. It was a cold, cold morning, even with the upward climbing.
We went up from Tyndall Frog Pond over Bighorn Plateau — that was a windswept, desolate area. Beautiful, but alien. No bighorns seen. The rest of the day felt like an endless repetition of "climb up the wooded ridge, climb down the other side, cross creek, repeat." It was probably only 3 or 4 times, but still… At one point we saw a jackrabbit, all huge back legs and ears. It was standing off to the right, then loped across the trail and into the open pine wood.
We passed the JMT/PCT junction, then the Crabtree junction where we picked up our bags for pooping — wag bags, one per. Then it was a climb up to Timberline Lake, where we sat and ate lunch. From there it felt like a hard climb, probs due to eating, up to Guitar Lake. A bunch of people have converged here — Scott & Becky, Alyssa & her bf Will, the Mainers Nell, Andrew, & Sasha, Jesse & Stephen from SF, the Alaskan couple Courtney & Devon (I hear). We met another hiker Doug, who has tons of extra food that he shared. We all sat around chatting & eating by the lake.
The weather has been clear today, though fairly cold. No rain! We had to use baling twine & the hanging cord to tie the tent corners down to rocks, to sustain the wind. One two tent stakes would go in.
We're planning to leave at 5 am tomorrow to hike to the summit, then out to Whitney Portal & burgers!
Feet: good
Body: good! still have knot on left shoulder
Mileage:
 JMT miles: 10.4 today, 206.8 total
Total miles: 10.4 today, 235.8 total
Tyndall Frog Ponds 11,035′ → Guitar Lake 11,488′
For days before getting to Guitar Lake, R & I had been talking about wag bags — the waste disposal products dispensed by the Crabtree Ranger Station. They consist of a large outer bag, an inner bag, and a powder that solidifies whatever liquid it comes in contact with. Up above the tree line where many hikers make base camp before heading up to the Whitney summit, there is no dirt to dig catholes, so the solution is to poop in a bag, and pack it out.
Hikers already talk about bowel movements enough; you can imagine what adding props into the mix did for conversations. "Wag-bagging" quickly became a verb, and I can't imagine we were the first hikers to innovate it. After our short day's hike to get to Guitar Lake, we had hours to sit around socializing with trail friends, and I, for one, spent a non-zero potion of that time wondering when I, or someone else, was going to go hide behind a rock and wag-bag it.
Fun times.
The morning had been chilly, starting at over 11,000′ elevation, but at least we were moving. When we got to Guitar Lake, we had hours and hours to kill, and the cold sunk into my bones. Around 3 pm, a pair of young men walked up and poked around for a good campsite. Not finding one, they said something like "Well, we've only done one pass so far today. Might as well just do Whitney and head out."
We all just stared at them as they went.
Russell & I had of course done not even one pass that day, taking an easy day after Forester's hail storm, and only walking 10 miles to pull up at Guitar Lake in the early afternoon. I doff my metaphorical hat to those gentlemen — they have the stamina of mountain goats and I admire that (with my flabbergasted jaw still glued to the floor).
Many of our fellow hikers gathered around a campsite, and we cooked and shared our extra food. One guy, who I call Two Bear Barrel Doug, had been planning to follow the JMT with the High Sierra Trail, and had only changed his mind that day after summiting Whitney and returning to Guitar Lake. He was now going to hike out via Whitney Portal instead, and therefore didn't need his second bear canister's supply of food. By that point in the hike, our food was down to the next day's breakfast, a scant handful of trail mix, and one bean-heavy dinner we were avoiding for gastrointestinal reasons. We were happy to help relieve Doug (and the rest) of their extra snacks.
Chewing, digesting and hanging out by the camp-stoves helped warm us some, but it was still frigid. Brr.
Even setting up our tent at the lake was a challenge. Many hikers go at a one-pass-per-day speed through the last half of the JMT, which meant a lot of people had bunched up over the last few days and were crowded into this last camping area. Much of the ground was wet from the recent showers, and the moisture threatened to soak up thru our tent floor. Unrelenting wind tried to pull down shelters, and where there wasn't granite underfoot, there was soft sand that didn't want to hold stakes.
After our stakes were ripped out for the third or fourth time, I started fiddling around with the baling twine I'd brought on impulse and the bear-hang rope. I managed to secure the pitch points using large rocks as anchors, and the miscellaneous lines as guylines. I weighted the line with rocks, and pinned the stake on top so it couldn't get pulled back through. It looked ugly, but got the job done.
Several hikers were planning to hike to the summit in the dark before the dawn, to see the sunrise from the highest point in the continental United States. Russell and I decided to join a group going a little later; we didn't think our headlamps would be great for night hiking, and were a bit concerned about the temperature that early. That afternoon we had heard a helicopter over the mountain; the story 'round the lake was that a hiker wearing shorts and a windbreaker on the summit had gotten hypothermia and had to be airlifted to safety.
I had trouble getting to sleep that night. Not sure which I was more nervous about: finishing the hike I had started 19 days earlier, or having to actually wag-bag it in the morning.
Day 19 in pictures: