JMT Day 6: Blowdowns, lake swimming, and an ultrarunner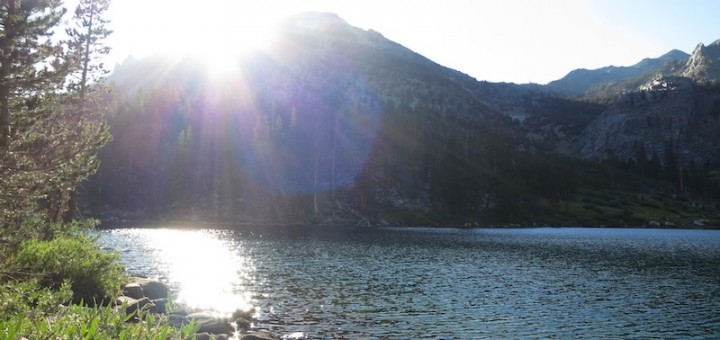 JMT Day 6, August 9, 2013 Friday
I woke up around 6:30 and made it over to the cafe at 7. I ate a really nice, if overpriced, breakfast with the Mainers Andrew, Nell, & Sasha, and the late-50s couple Scott & Becky. I then bought a new fuel canister, a plum, and some baby powder to deal with the chafing from my shorts, at the general store, and took off.
The walk was pretty easy today. Much of the morning was through fairly open forest, with many blow-downs from the big storm a few years ago. I saw a few deer close to Red's, once while I was walking through a waist-high fern field. There were elderberry bushes in fruit along that section of trail.
There was a gradual climb up 2500 ft over the course of the day, mostly along the Eastern side of a valley, I think Cascade Valley. The scenery didn't change much, but I passed many mountains. The views took my breath away.
I walked near a couple of guys from SF for much of the day — Jesse & Stephen. I showed Stephen how to cinch his waist belt to take the load off his shoulders — he said later in the day that it had "changed his whole outlook on the hike" (for the better). He hadn't planned much for this hike (ha – even less than me). Also met a couple of guys fly-fishing! And an older couple (trail names Time Check and Hiker 45) who have thru-hiked the whole PCT. Between the creek before Duck Lake & Purple Lake, I passed a group, and the woman in front noticed we had the same shoes, and hi-fived me.
I've gotten asked multiple times by other hikers why I don't have trekking poles. I don't have a good answer. I've been talking about gear & shoes with other hikers a lot.
I made it to Purple Lake to camp. I'm cowboy-ing again — hope it's not below freezing. The lake is small, calm, and lovely, with steep sides that made finding a spot hard. I ended up taking an established site right by the lake edge. Not optimal. I went for a dip after setting up my sleep area — it was cold, but felt great. I doubt my bra will be dry before morning… It felt wonderful to lay on a rock in the sun to dry off.
I had potatoes & salmon for dinner, and ate it all. The new chocolate bar is much tastier than the old one, so I'm actually eating it. Right after leaving Red's, I discovered that I've lost my map #9, which covered today's hiking. Scott let me take a picture of his map, and Time Check gave me the relevant pages from his Eric the Black guide — so nice! My calculations of mileage don't line up with Eric's. According to Tom Harrison [map set], I walked 13.8 miles today, putting me at 74.2 JMT miles, while Eric puts me at 73.2. Oh well.
—— While looking at maps to plan ahead, I just found my Map #9…
I think I'm going to get to MTR [Muir Trail Ranch] early, on the 12th. I may do some side trips to other lakes instead. I'm covering many more miles than I expected to, which feels really good.
I saw scat which was probably cougar, with lots of fur in it. Haven't seen bear scat, or any bears.
Feet: the popped blister feels totally okay now. I put duct tape on the other pinkie (R), which is rubbing some but in general feels better. I put moleskin & duct tape over the heel abrasion. I also found a hole in the back of one of my smartwool socks. Connection? Still some soreness in my midfoot/arch areas on both feet, but not too bad
Body: good. legs are powering me up hills. no new sunburns
Mileage:
JMT miles: 13.8 today, 74.2 total (73.2 adjusted!)
Total miles: 13.8 today, 84.9 total (83.9 adjusted!)
Red's Meadow ~7700′ → Purple Lake 9928′
* I saw a woman on the trail hiking really quickly. She stopped to chat, said she had the same shoes (for trail running). She is trying for a Fastest Known Time (FKT) on the JMT, going for 3.5 days! This is her 3rd attempt. Her name is Jen and she had a bat tattoo on her right forearm right by her elbow pit. She was walking the trail now to make sure the creeks had enough water. I think she said she's starting from Whitney on Aug. 19th. I saw a sign made from rocks that read "Go Jen" a couple miles down the trail. She had green Patagonia shorts (bright green) and trail runners of some kind.
Also, two nights ago (Thousand Island), I felt pretty bummed & down. I looked through all my camera pictures, especially the ones of Russell. Red's Meadow revived me, and I'm feeling very happy now.
An elite trail runner with a bat tattoo? Good thing I hadn't yet read Christopher McDougall's book "Born to Run", or I would have recognized and fangirl-ed the incredible Jenn Shelton. Hard.
I only put two and two together a few weeks ago, when I checked out the barefoot running manifesto from the library. When I got to the section that described the young American runner who took part in the Copper Canyon race, my brain went, "wait a minute…". I scrambled for my journal and found the part where I'd written about the runner, then stayed up 'til 4 AM finishing the book, so I could find out how she did.
Meeting Jenn, at the time as an anonymous yet clearly fantastic athlete, was inspirational — I would never have thought humans were capable of covering the distance in 3.5 or 4 days that I was covering in 20. Humbling doesn't even begin to cover it.
The "Go Jen" sign was made by a hiker named Bruce I met a few days later. We kept talking about Jenn down the trail, hoping to see her on her FKT, but no one I talked to during the last few days saw her. Perhaps she passed us during the night? It looks like she didn't set a new FKT in 2013 — best of luck to her on future attempts!
Helping Stephen with his pack was the first time I was able to pay forward some of the trail knowledge others had shared with me. In general on the trail I felt like Jon Snow — I knew nothing. The pack fit trick had been working for me though (buckle and/or adjust straps in this order: waist, shoulders, load lifters, sternum), and I was relieved when Stephen said it worked for him too. YMMV.
The map sharing was the first full-on trail magic that I experienced. Long distance hikers like to say that "the trail provides", and man, it really did for me. Thanks again, Scott & Time Check!
And oh, that campsite. *Shakes head.* "Not optimal", my ass. That was the WORST.
It wasn't just that I was in an illegal spot (highly impacted ie. "established", but only 15 ft from the lakeshore), but that I was positioned to get All The Condensation off the lake during the night, at almost 10,000′, at the lowest point in a valley. It was a perfect recipe for freezing discomfort, and I ended up setting up my tent in the dark and moving into it. Grumble, grumble, live and learn.
On the plus side, I found a nice tent stake in the grass. Silver lining?