JMT Day 17: Bonking on Glen, and Snickers to the rescue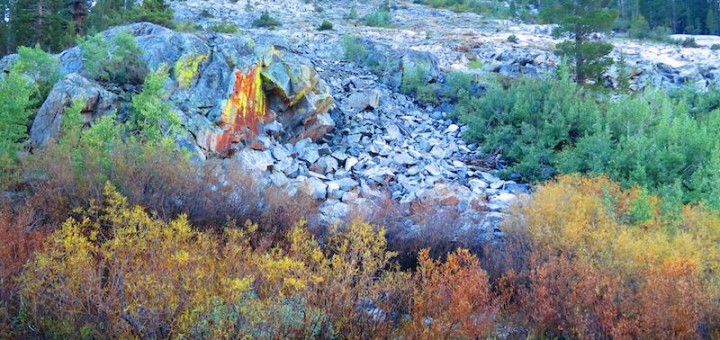 August 20, 2013 Tuesday
We packed up the tent wet, had breakfast in camp, and headed out at what felt like a good hour. The first 4 miles were pretty, a steady climb with nothing to mark distance, along a creek (the South Fork of something). We stopped at the Baxter Trail junction, at Dollar Lake (which was really picturesque) and had a snack, then did laundry. From there we kept on walking all the way to the pass, which was a mistake for food & water.
Arrowhead Lake was nice, with good views of Finn's Dome. The Rae Lakes were breathtaking — aquamarine gems dotted with tiny wooded islands. There were already clouds in the sky by the time we started the climb above the last Rae Lake to Glen Pass, so we were a bit stressed about making it up before rain hit.
The climb went on for a while. From where we camped it was over 3400 feet ascent, and it felt like it. The trail was pretty, but hard & poorly graded right above the lake, then rose over rough switchbacks to a false pass. We could see the real pass behind [it], but hadn't wanted to believe that was it. The switchbacks up the real final ascent were nice, though long. I felt my vision blacking at the edges partway up, so stopped and ate a snickers (half). The energy hit quickly and I finished the clim.
The top of the pass was like a knife's edge. Great views down to the Rae Lakes, interesting view south to a big empty granite basin, which we climbed down into. The Mainers were at the summit when we got there — fast hikers!
The hike down was a race against weather and a bad mood (R). Russell did point out that the granite basin sounded totally quiet — zero ambient noise. A bit later, I sneezed, and we could hear the different echoes around. We eventually climbed down, past some incredible views — one of another valley to our right, by Lake Charlotte, with a yellowy-orange cut-away dome that was stunning — into a pine forest. Russell stopped me to point out a pair of Blue Grouse which sat happily next to the trail while we stared, and a hiker and a ranger both gave us a heads up about a group of ~4 bucks eating next to the trail ahead — so cool. A couple 3-points, a 2, and a fawn, I think.
The trail had a junction, and we thought we were close to the campsites for a while but they kept not seeming like Upper Vidette Meadow, so we kept hiking, went up ~400 feet, in our rain coats to boot, and finally found it. We had just gotten the tent up and were coming back to it with fresh water from the creek when rain hit. We got inside just as it turned to hail 1/8″-1/4″ across. We waiting out the shortish shower, then joined the Mainer camp to make dinner. There was lovely color for a sunset. Today was supposed to be the last day of thunderstorms, so we'll see… (we could hear thunder all afternoon). It's been nice to learn that we can handle rain.
Feet: good. Russell is letting me use his clean socks (3rd pair) as my smartwools have holes in both heels. They feel so luxurious.
Body: smelling bad at this point. didn't drink enough water today. thought about food all day. feels like a knot by my left shoulder blade — a bit painful in the PM after hiking
Mileage:
JMT miles: 13.8 today, 184.3 total
Total miles: 13.8 today, 213.3 total
Woods Creek Trail 8492′ → Upper Vidette Meadow 9961′
Keeping morale up on ascents is key for me while hiking. I plod along at my own pace, remembering to keep breathing evenly, and keep decent posture (feet under hip = my ideal hiking stance). False summits aren't something I've come up with a mental work-around for yet, though. They bum me out hard, and Glen was no exception. From what felt like the summit, the actual pass looked impossibly far off — quite disheartening for this achievement driven hiker. It wasn't helping that I was eager to get up and over Glen to the detriment of paying attention to nourishment and mood.
Overall, I managed food pretty well on this hike. I like to eat, and eat frequently, and that's a strategy that generally works well when you're walking up and down hills for most of the day. I ate every two hours or so, and developed strong habits as to what went in each meal: breakfast was granola with whole milk powder, AM snack was sausage & cheese, lunch was fig newtons and energy… cubes from the health food store, PM snack was a Snickers, jerky, and dried fruit, and dinner was a hot meal with chocolate for dessert. Sticking to that pattern worked really really well.
When I didn't stick to the pattern, my energy levels got out of whack. Sometimes the desire to get somewhere before weather arrived overran my good sense, and this was one of those days. The vision blackening was a great sign that I was bonking hard, and I'm glad I had thought to put a Snickers in my waist pouch.
This was also the day my hiker hunger really kicked in. If your hiking trips have always been under 2 weeks, you may have never encountered this feeling of ravenous hunger that takes over your every thought. I felt it from about this day, until several weeks after the hike was finished.
My best understanding of this phenomenon is that 2 weeks is about the time it takes for your body to realize that you are doing something really different, and that what you're feeding it is not sufficient. Some people start losing weight at this point, burning through their fat reserves, and then muscle. Not everyone feels it — one friend didn't feel it at all during her 23 day JMT hike. Maybe she was just always eating enough. Question mark?
One of my goals for PCT planning is to manage my hiker hunger better, perhaps even avoid it altogether. It's not a nice feeling to be desperately planning each upcoming meal, from 5 minutes after the last one ends.
On the upside, it's nice to be able to give in to my ice cream cravings, as often as I want…
 Day 17 in pictures: