JMT Day 16: Deceptive crags, a curious chipmunk, and tranquilo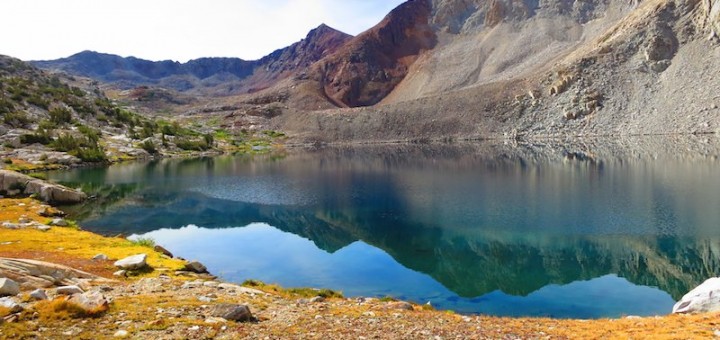 August 19, 2013 Monday
The rain was a hassle yesterday night. Some drops got inside the tent, and Russell, in his sleepiness, thought he should put away his sleeping bag. He didn't, which was good, and no more water got in, but I had a very fitful night, and in the morning we squabbled. I asked him to hike ahead for a bit while I cooled off, and we talked it out near the Bench Lake turn-off.
The first part of the trail was somewhat switchbacks, some trail going right up a hillside as we climbed up to Lake Marjorie and the pass. The trail to Pinchot was mentally hard — it went down sometimes, and was hard to see where it was going. I stopped and said "I can't tell if we're almost there, or 1/2 mile away," when it turned out we were almost there. The final ascent was over these craggy black rock rough switchbacks with almost no visibility to the pass.
On top of the pass I changed into shorts, and we had our AM snack. The beef summer sausage was delicious. All gone now. Two German women were at the top at the same time as us, and the Mainers, and we all chatted. There was a resident chipmunk that climbed into a German woman's left-over [container] and licked it out.
The way down was nice switchbacks, then some rolling hills. We stopped by a small pond and put up our tent to let it dry out. From there it felt like it took forever to get to our next trail crossing at Sawmill Trail. We followed Woods Creek after that as the trail went thru varied terrain — some forest, some granite slides with willow, some ferns. Clouds were gathering by mid-afternoon after a pretty hot midday, and we sped up the pace to get to the Woods Creek Trail junction before rain hit. It felt like a long time before we got there, but we made it just as it started sprinkling.
There is a fabulous rickety-feeling suspension bridge over the creek that we crossed 1 by 1 to get to a large camping area. Us, Robin the Scotsman, the Germans, and the Mainers are all here, along with 5 guys from Arizona who all have tarps and hammocks (with under-quilts around the hammocks!). The Arizonans had built a nice (illegal) fire that we gathered around, and we had a nice companionable evening. They are doing a 4-day Rae Lakes Loop trail. They have LOTS of alcohol with them, including Everclear. The German girls were packing cans of beer with them for the first 8 days of the trip!
We had hoped to get up to Rae Lakes today, but the rain got in the way. Here's hoping for clear weather tomorrow.
Feet: good. R pinkie feels totally normal, looks basically same color as other toes
Body: hard to hike after bad night sleep. otherwise good. quilt is not really warm enough, some nights.
Mileage:
JMT miles: 11.7 today, 170.5 total
Total miles: 11.7 today, 199.5 total
South Fork Kings River 10,000′ → Woods Creek Trail Junction 8492′
All of the well-trod locations in the wilderness have resident rodents. I've read many references to the Muir Pass marmot, heard first-hand stories of the Yosemite Valley bears, and then there was the Mather Pass chipmunk. It sure was a cutie, too. None of us wanted to encourage this wild animal to eat our decidedly non-wild food, like skittles and Mountain House, but it was too cute to stop it from licking out that leftover container.
The suspension bridge over Wood Creek was quite a sight to see in the wilderness. It was one of those experiences that could be frightening or fun, depending on how you decide to take it. The bridge wobbled under foot, while swaying from side to side. We could hear other hikers running back and forth across it for fun as the evening grew later.
The campfire that night hit a sweet spot. It had been raining daily for 3 days, and there was a fire ban. The disapproving part of me was quickly shoved aside in favor of the part that wanted to dry my socks and feel real heat on my hands and face. That was my first exposure to hammock users in the backcountry, and I was intrigued. One of the guys showed me how the setup worked, including giving them a dry place to cook out of the rain.
While getting ready for our 2012 hike, I was interested in getting a tarp, but decided to ease into lightweight gear and get a Tarptent instead. Our tent (the Double Rainbow — picked in part so we could say "Double Rainbow, all the way!") was mostly great; it was light, easy to set up, luxurious for one but spacious enough for the two of us and our packs. It stood up to the weather on this trip well, despite us having not sealed the seams with silicone for added waterproofness. It had an issue with condensation though (common among single-walled silnylon shelters, I hear), and I didn't like feeling trapped inside it during rain.
Seeing the tarp setups at this campsite inspired me to try a tarp myself; I've ordered one to try out, and will bring it on the PCT if I like it during the test run.
It takes me a while to really wake up in the mornings, which is one reason why getting up and hiking right away works so well for me — I wake up more quickly while moving. With Russell there, mornings were more complicated, and on this day all the minor inconveniences of having to talk to someone else without an hour of waking, rain, bad sleep, and less mileage than we planned got to me, and we fought over something ridiculous and miniscule.
We had both expected to get into it at times — being together every minute of every day can be challenging for even the most peaceful types — and we figured out how to deal with it fairly smoothly. When we hike together during the day, I take the lead and Russell walks behind me. He is a solid 8 inches taller than me, and a lot of that is leg. His natural stride is so much faster than mine that I struggle to keep up when he leads, so we've fallen into a pattern of me going first, and it works for us. On this morning, it was easy for him to just go first while I waited 2 or 3 minutes. Bam — he was outta sight in no time. We had arranged to meet at a particular trail junction, and by the time I got there, we could deal with it.
One thing I love about hiking is that when I'm out in the wilderness with a pack and nothing else, it's very clear what is real and what is important. Water, food, bowel movements, sleep — this is really all that matters. There's so very little I can change when I'm out there — not the weather, the terrain, the temperature, or my gear.
Being so out of control makes me feel tiny in a huge world, and that brings a definite peace with it.
So it's raining again and our tent won't dry out during the day? Oh well, we can't change it. No need to worry.
So the trail is climbing down, and we'll have to regain all this elevation we're losing? Oh well, nothing to do but walk it anyway. No need to worry.
A few days in, and I feel calm, tranquilo¹, this peace of knowing my place in the world. Having my world reduced to such a small set of concerns (water, food, crap, sleep) is part of why I hike.
Day 16 in pictures: