JMT Day 8: Scorched earth, "bear" tracks, and a leaky boat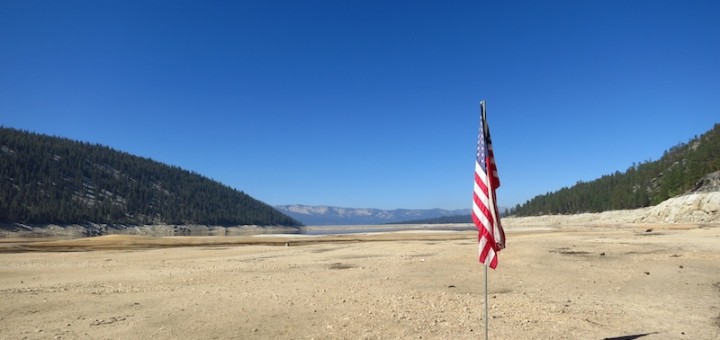 JMT Day 8, August 11, 2013 Sunday
I decided to go to Vermillion Valley Resort (VVR) and take a rest day today. I got up pretty early (still not full-full light) and hiked out 2.8 trail miles to the turn-off, then another 1.5-2 miles to where the water taxi/ferry comes. The two SoCal guys, and an older man named Lou, were waiting in the shade. We could hear the motor of the boat way before we could see it. When the boat finally pulled up, one of the passengers got out and said quietly, "The boat leaks. I hope you make it." Ha!
Our boat driver was a young guy named Sam, and he spent much of the surprisingly long ride telling us nonchalantly about the various leaks on this tiny metal boat. When we got to shore, the staff ushered us into a gutted-out cargo van. We sat on milk crates amid gas canisters as the van took us up the other side of the dry lake bed.
I set my tent up in the free hiker camp area (very close this time, unlike 1/4 mile away at Red's), and had a burger & beer for lunch. After lunch I did laundry, sitting around in just the running shorts and my rain jacket. When the clothes were clean I took a shower ($6 for 7 minutes). It was def. not enough time to clean everything — the backs of my calves, and my feet, still have visible dirt.
I found "Elfstones of Shannara" on their bookshelf and have been having a great time reading it. I cooked my own food for dinner, then went back to the cafe for pie à la mode. My tab came to $60. Under $100, so that's good. I'll be trying to get on a morning ferry back to the trail. (Along with everyone else.)
Feet: good. taking off the bandage before sleep [last night] ripped off more blister skin, which drained more fluid. it was raw at night, but feels good now.
Body: good. tired!
Mileage:
JMT miles: 2.8 today, 88.6 total
Total miles: ~5.8 today, 102.3 total !!!
Mott Lake Trail 8960′ → VVR ~7700′ (zero!)
Oh the leaky boat, and the cargo van, which I heard referred to as the Thunderwagon. So perfect. It was already weird enough to be moving at the speed of light (compared to walking for the last 7 days straight), but to be in those bizarre conveyances lent a certain surrealism to the whole VVR experience.
"The boat leaks, I hope you make it" ranks right up there with "you're looking strong, that's good, you'll need it" on the list of unsettling things other people said to me on the trail. PSA: when you run into other hikers on the trail, don't tell them how hard the trail is. They probably already know, and are trying to forget.
I remember seeing a dragonfly, brilliant sky-blue, flying alongside the ferry. It kept pace with the motor boat for about half the lake before leaving us behind.
When I got to the turn-off to go to Lake Edison and VVR, someone had scribbled on the sign something like "it's scorched earth, hike down at your own peril". They had a point. Lake Edison is a reservoir, and it was extremely low in 2013, after two consecutive dry years. I shudder to think how low it will be this summer. I had to hike along the moonscape lake bottom for close to an hour to get to actual water.
That was also the day I thought I found bear prints. I saw them in the dirt on the turn-off trail, and panicked. I remembered that you shouldn't startle bears, so started singing whatever came to mind, to give the "bear" good warning of my presence. The tracks continued on the trail as I hacked my way through Disney musical tracks and Yellow Submarine. When I got down to the lake, I saw the culprit: a dog.
Incidentally, when I actually saw a bear a few days later, my first thought was "what a big dog".
I called this day a zero in my journal; guess it would be considered a nero (according to my own hiking lexicon)? I was happy for the rest day, whatever it gets called. The burger was surprisingly good, not just "I'm burning 4000 calories a day and therefore MREs would taste good" good, but legit "I'd pay money for this in a town" good. I think. Miles better than Tuolumne Meadows burgers for sure. The beers really hit the spot.
I mentioned before that I brought poems with me to read on the hike. By VVR, I was ready for some good, crappy fiction, and The Elfstones of Shannara has a special place in my heart as the epitome of crappy fantasy I read when I was 13 (you named your Gandalf wizard Alanon? like the meeting? really? oh, you used TWO "ells" so it's different? ahh.). I blitzed through it in the next few days and surrendered it at Muir Trail Ranch for another hiker to scoop up. Good times.
I camped near Alyssa & Alan again, and Pamela, and the So Cal guys, and the three Frisbee guys (they would stop and take long Frisbee breaks in meadows). We all sat around in a bit of a daze, politely ignoring the weird outfits we were each wearing to do laundry in, luxuriating in the hot water showers, sitting on stools instead of rocks, trying to go to bed while the rest of the generator-powered resort partied on. 'Cause hey, it's almost 9 — bedtime, right?!
At some point the British Army rolled in, and MAN did they know how to whoop it up. I was in line to pay my tab, and the chap behind me (a young Welshman, if I remember correctly) had filled his arms with tallboys, all for that night. I could hear them singing around a campfire as I tried to fall asleep. The one that goes "and I will walk 500 hundred miles mumble mumble" was a popular one for the drunken bellowers.
I briefly thought "I should go join the excitement. There'll be time to sleep tomorrow night," followed by, "Nah."
I had to get up to pee in the middle of the night, and as I made my way towards the toilet building (yay for remembering to not just take a leak on the nearby tree — go me!), I stumbled over a huge number of beer cars and bottles. The place looked like the front lawn of a frat house after a home game victory.
I don't know how those Brits downed that much beer and still made it up the nasty switchbacks the next morning. I heard a few dropped out at VVR due to injury, but that the rest of the group made it all the way to Whitney. That's some impressive liver function right there.